Northern Spain: Seascapes and Mountains
It was winter 2017 and whilst browsing the web for Icelandic landscape images, a seascape from Northern Spain was returned with a note that it reminded the photographer of Iceland. My interest was piqued. Further searches revealed other worldly sea stacks, spectacularly empty beaches, the jagged peaks of the Picos De Europa and the strange desert landscape of the Bardenas Reales. With historic cities and picturesque towns coupled with arguably the best food in Europe and unarguably the best wines, flights were booked for mid-May.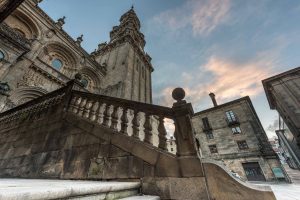 Tired pilgrims descended into Santiago de Compostela as we prayed for stormy seas and biblical sunsets on our short road trip.  A campervan was rented and we took our leave of this holy city. Praia De Cathedrals was our first stop – a beach as impressive as the actual cathedral in Santiago. As with many of the beaches in Northern Spain, the precise timing of tides is essential. The arches of Praia De Cathedrals are accessible for a very short time at low tide. This is well known amongst locals and a crowd had gathered awaiting the tide to recede. To beat the crowd, you have to get wet, wade out and even then you're only afforded 2-3 minutes solitude beneath the impressive arches. The sand at the arches is soft and tripod motion must be well managed. The sky was an uninteresting late afternoon blue. An average image of a special place was taken. If like me you enjoy a sandy beach with quick moving water and lots of foreground interest an overnight visit is highly recommended.
Onward to Isla Pancho in Ribadeo  – a small island connected to the mainland by a man-made bridge. Whilst photogenic it could be bypassed without regret. Ribadeo is the most eastern coastal town in Gallicia. Asturias lies beyond. Asturias is a relatively small and extremely beautiful region of Spain with many rocky beaches and the glorious Picos mountains a short drive from the coast. Our first night was spent at the edge of cliff with stunning views in all directions. The rocky cove of Portizuelo was a short walk away for sunrise and the blue hour walk along a rural path to the cove was filled with bird song and the scent of wild herbs.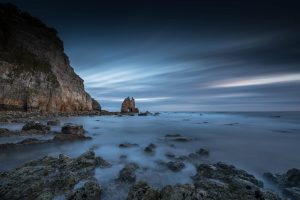 Although I had an image in mind – standard enough, I made the mistake of sticking with the plan when the good light was in the opposite direction – I just didn't want to risk failing to find a composition and wasting that good light. The risk may have been worth taking and begs the question does light need composition more than composition needs light?
That evening we parked the campervan beside the impressive blow holes at Bufones.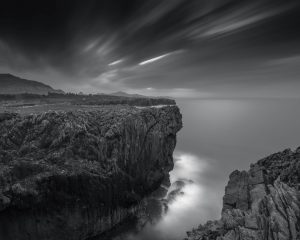 There are no beaches of note in this area. The cliffs are well positioned for a sunset shot though as with all clifftop images foreground is challenging to find. We had a symphony of sounds pounding our ears: thunder, the blow holes, bangers being set off in the nearby village. But with a long active day behind we slept soundly nonetheless.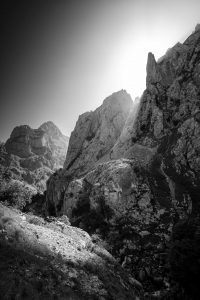 Covadonga Monastery, Lake Enol, Lake Ercina and the Cares Gorge were the four sites we visited in the Picos De Europa over two days. The mountain scenery here is truly spectacular and reminiscent of the Dolomites. It should yield worthy images and is definitely well worth scouting. Unfortunately none of the sites were visited at sunset or sunrise.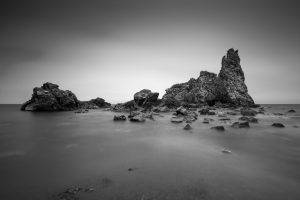 Pendueles is an unusual beach – a jumble of impressive rock outcrops sitting in the centre of the cove. Access is not overly challenging and after you clamber down you will probably have the place to yourself. After that, compositional foreground possibilities are very varied although the central rock outcrops may be best as the main subject matter.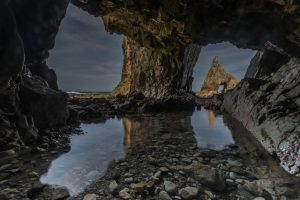 Google maps is intent on keeping Playa de Campiecho a secret as I discovered when trying negotiate the narrow roads to the cove adjacent to it. A pleasurable two hour wait for low tide was required. Access to the "Looking Cave" cove. The image to take from here is a special one indeed but there is little variation that one can add to what has already been captured by many photographers before. I had dropped my filter case in salt water just before entering the cave and although I did my best to clean my polariser it was only when I got home that I discovered the darker tones within the cave were spoiled by the smudged filter. Nonetheless, be prepared to work in the mix of bright and dark light, be aware of the position of the reflected sky and sea stack within the cave water and bracket for both the sky and the sea stack.
Our final stop before arriving in Bilbao was pleasantly spent above Playa de la Arnia. A single bar/restaurant located on cliff edge was thronged with local weekend customers and were were delighted to have managed a reservation of a table for dinner. The fish dishes and atmosphere were excellent. Additionally, the beach below is very beautiful for swimming – so you could quite happily spend a few days here mixing photography and living!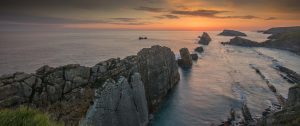 The eastern viewpoint at the back of the bar/restaurant is well photographed but it honestly does nothing for me. But I arose for sunrise and did my duty by standing at the top of the cliff and taking an uninspiring image. After 5 minutes I decided to climb down the cliff to the shore – not an easy descent. But I was too late – it was a sunrise that stayed warm for a very short time. If I revisited I would definitely descend to the shore in blue hour. It was blue skies and bright light by the time – short walk away – I reached Los Urros.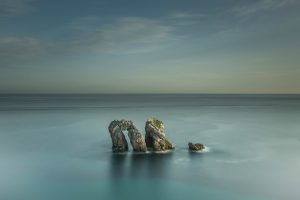 These sea stacks would also be well worth the descent to the cliff base. Bilbao and some abstract images of that abstract building concluded our Spanish adventure. Other seascapes on the eastern side of Bilbao would have to wait for another time. See the related blog: Northern Spain: Seascapes and Desert 2019. Hope you enjoyed – drop me a mail if you're planning on a trip to this part of Spain.