Donegal: Melmore, Fanad and Horn Head
With a dearth of Irish portfolio landscape images, I promised myself earlier this year to spend more time exploring Ireland. Birdwatching, holidaying and scuba diving have brought me to many beautiful locations in Ireland and unsurprisingly these locations double as prime landscape photographic sites. Each pursuit reveals the same places but in different ways.
So where to start on this portfolio quest? Well, why not start in the wonderful county of Donegal and work south along the west coast and see if I land back in Wicklow at some point in the next decade. The next question is where to start in Donegal? In September, 2017 we stayed in Fanad lighthouse and had a wonderful time there. With those memories still relatively fresh and with some prior knowledge of the landscapes, it might make a more encouraging start to revisit these places and find one or two new locations.
I booked two nights in a hotel in Downings, centrally located for a number of sites I had planned to visit. Fanad Lighthouse and the Great Pollard Sea Arch on Fanad Head,
The Murder Hole on Melmore Head and the previously unvisited Marble Arch on Horn Head, but the latter proved challenging to find but where there's a will there's a way (even when there's no path).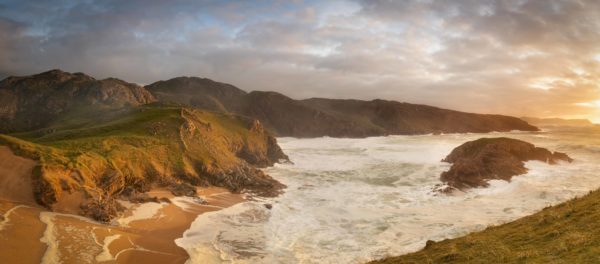 If you are a landscape photographer, I am sure that you have heard of the Murder Hole and for good reason. Two years ago I was lucky enough to have a relatively good sunset here and this time was a little better again. But as we know a potentially good sunset is as much of a distraction than a help and there is always the urge to position the sun on a main third or centrally. The western facing beach was totally inaccessible and the bay was white foam with sea spray hazing the distant walls of the bay. This presented an opportunity to walk out along the bay shoot back away from the sun. I took a 4 image panorama as the warming sunlight illuminated the banks behind the beach. Just to note that you do need to pass through a farm to reach the Murder Hole. There is a sign stating that no commercial photography is permitted and no drones are allowed.
The following morning I ventured to Fanad Lighthouse – as easy a landscape photography location as you could wish for. If you prefer shooting into the sun, it is a perfect sunrise location. Stepping out of the car, it's a simple decision of picking your viewpoint on the grassy slope to the west of the lighthouse. Large divots mark the places where many others have taken this scene from and for good reason so don't be hesitant in picking the largest divot that overlooks the narrow inlet right beside the car park. Also, be very careful in this area – the ground is uneven.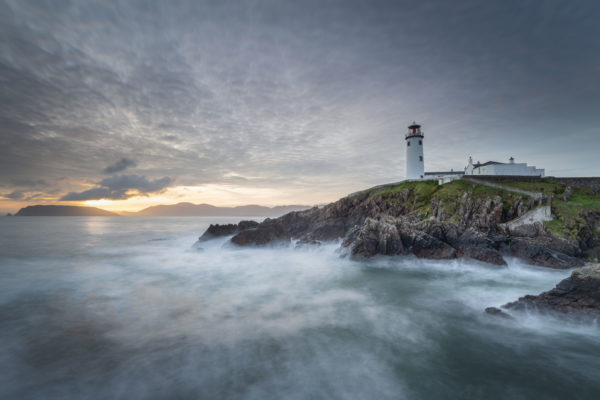 The lower you go, the more water, so if there are northerlies think about going further down to include more of that water on rock action. But bear in mind that you you will be at a lower point than the lighthouse and for a sunrise most of the rocks and lighthouse will be in shade and perspective will play a part. Prepare to bracket but also to work on hard selections in Photoshop as the white lighthouse will be difficult to select using luminosity masks alone. To note, there are no viable viewpoints to the east bar a small cove that gives a distant and unsatisfactory perspective.
If you're lucky enough to have good light that may last after sunrise then don't stay too long at Fanad as there is another wonderful location not far away. The Great Pollard Sea Arch is not easy to find and I cannot give directions as it involves passing through a farm. Once located on Google Earth, find the nearest road end – it's about a 10 minute walk – just head in the direction of the sea.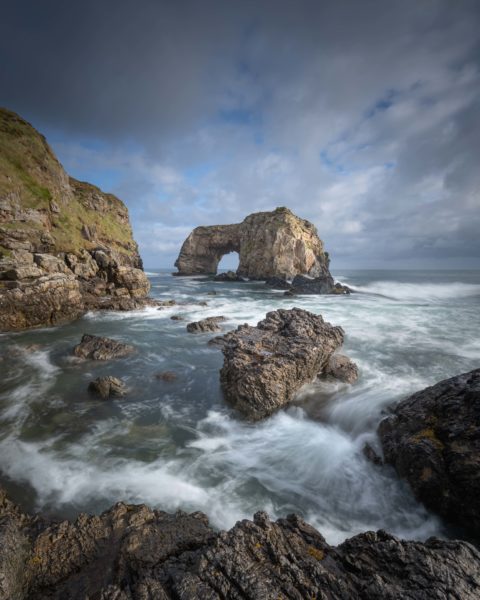 On my way, I was cornered by a cow who kicked wildly and wanted me out of the field at her earliest convenience. I duly obliged and jumped a barbed wire fence into a wet ditch but managed to keep my gear intact. Looking north east the arch entrance is at it's widest. There are well positioned rocks for foreground. I spent a couple of hours here and flew the drone through the arch. With the best of the morning light gone, it was a real pleasure looking out over Lough Swilly in such a peaceful location – not another soul present. On returning to the car I struck up a conversation with the farmer whose cow attacked me earlier. He pointed out into the lough and told me that a former slave trader by the name of John Newton had written Amazing Grace as his ship was sheltering from a storm. There's more than just photography on this site dear reader. As I bid my farewell, I was sure the cow gave me a sinister look as she stood behind him!
As an aside, the perfect way to travel and photograph the landscape is by way of campervan. Eat and rest when you want. Staying in a B&B or hotel, there is always the morning time pressure to get back for breakfast which usually stops at 10:30am. On this occasion I missed it but had a great, late breakfast in a local cafe. For sunset, the same applies – particularly in autumn. With sunset at 7.40pm, most hotels stop serving dinner
at 9pm, so again a big rush is involved.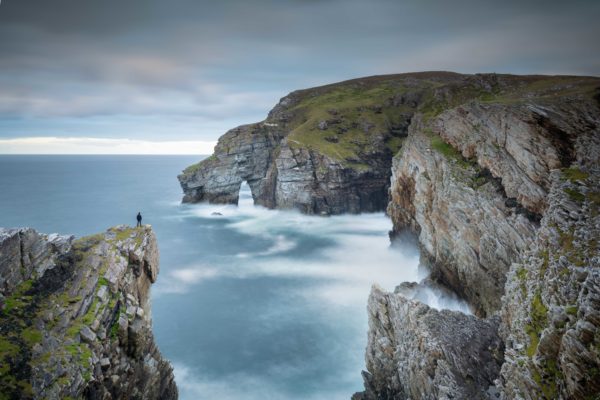 Yearning for a new location, I set off to find the Marble Arch on Horn Head. I had not heard of this location before but stumbled across an image or two that showed much potential.
The precise location of the arch evaded me – it was somewhere  on Templebreaga Head. There is no path there and the way either involves a long coastal walk or a shorter walk through farmland. In the end I drove to the nearest house, asked directions and was kindly greeted by the owner who directed me across his fields.
On arriving at the cliff edge the scale of the arch became apparent – truly epic. The light was very poor though there was a narrow gap on the horizon but sunset brought not that thrilling beam of light from nowhere but the more common snuffed out grey to quick darkness that a pessimist would get right most of the time. Even still, I was happy with the images I managed to get and gave the site a good 3 hours.
Before leaving I took a selfie. Balancing my tripod on a grassy slope I hesitantly let go of the tripod leg and ran across to a rock at the cliff edge. It was a good 50 meters or so and I had doubts that my troublesome remote trigger would work.  But when I returned to the camera a 30 second exposure had triggered and showed the scale of the scene perfectly.
On returning to the car the house owner was there to greet me worried about how late I had returned. What a gentleman. Invariably, the people I met in Donegal along the way were beyond pleasant and helpful.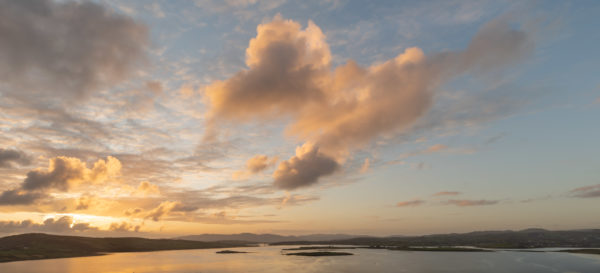 My final morning in Downings was a little bit of a treasure hunt without finding that pot of gold at the end of the rainbow. Driving out Melmore Head, I headed for a beach on the south side. Upon arriving I quickly realised it was a wrong call for morning light and drove back to a viewpoint overlooking the bay. The sunrise was muted but shortly after warm light graced a large cloud passing over with wonderful light. The composition was lacking but light like this deserves an image regardless.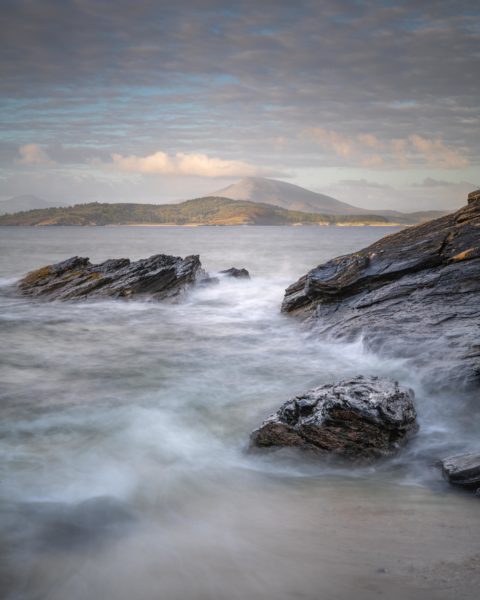 The morning light was still good and I as approached Downings to return for breakfast I took a number of side roads to search out a composition of the hills to the south from the water's edge. Turning into a holiday home and golf course, I found a nice inlet. Spending an hour or so photographing the gentle slap of the waves on the rocks I was pleasantly surprised at the image below. So not a bad morning after all.
I hope you have enjoyed reading this narrative. Why not check out the video of the same trip. My next blog will be part 2 of the Donegal trip – to the magical Dunlewey.
Thanks, Jimmy