Autumn Woodland in 2022
An amateur nature photographer is afforded limited time in the field. Rather than visit many well photographed locations throughout the country to effectively "bag" an image or alternatively bounce from landscape to wildlife to macro, I've found it more fulfilling of late to undertake a project, select a genre and set about visiting a small number of nearby locations. This approach fosters a familiarity with the landscape, provides a sense of purpose and opens up the creative mind to the excitement of creating new compositions, albeit on a localised and personal nature. It allows you to slow down, to explore nooks and crannies, to wander aimlessly with the knowledge that there is always something of interest around the next path in the forest or bend in the stream.
From October to December of 2022, by selecting a number of woodland locations in my home county of Wicklow I found that project – simply to photograph trees and woodland scenes.
Surprisingly, there are limited options in Wicklow – probably the most forested county in Ireland – our valleys and hills are thickly planted with commercial sitka spruce – in many respects a farmland for trees. Plantations detract from wide angled landscape images and provide little or no interest as subjects for woodland photography. There are deciduous woodlands – notably Tomnafinnoge and Glendalough Woods but otherwise woodland photography in Wicklow is best served from exploring random patches of beech, birch and alder here and there.
Faint memories of strolls through dwarfed oaks in Glencree attracted me back to that north Wicklow valley. The path down to Cloon – a replanted oak wood that straddles the Glencree River was visited a number of times in September and early October. I chose to bring an infra-red camera initially and only carried a standard camera when the colour started to turn.This young deciduous wood is very pleasant to stroll through – a peaceful oasis due to its distance of about a mile from the nearest road. An attractive, thick layer of moss on the boulders beneath the trees adds a little magic to the scene. However, it fell short of what I envisioned – coloured memories of yesteryear.  I could excuse myself or the wood for a lack of atmosphere/light during those trips but I think the images taken will not have a lasting appeal to me. However, the initial wonder of exploring a new location is satisfaction enough.
And so I moved on from the Glencree valley and focused on the more comfortable surroundings of Glendalough Woods adjacent to the road from Laragh to Rathdrum. The Inchavore River here is at its most interesting and a marsh running along the river bank has pockets of birch set amongst thick rushes. However, I was drawn back to the same scenes that I had photographed last year as I simply could not find any other compositions that worked. I yearned for old gnarled oaks and beeches but few could be found. That said, this is one of favourite woodlands in Wicklow-  that it receives very few visitors is an added bonus – I can't recall meeting another soul here over the past 2-3 years – my own private wood! Moving on, I paid a couple of visits to probably the most impressive oak wood of all – Tomnafinnoge but the light was pretty horrendous on both visits.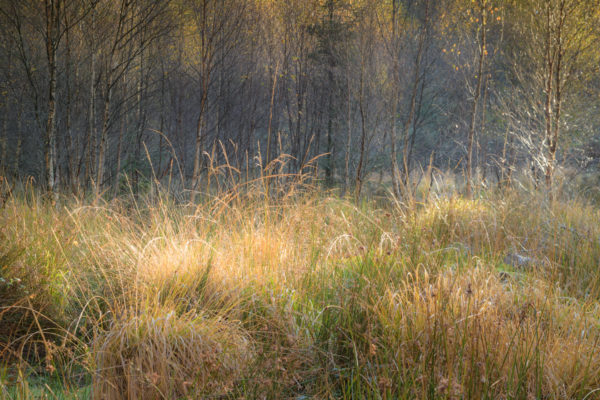 In mid November I explored Trooperstown Wood. The understory here is largely comprised of bilberry bushes or fraughans that tend to provide a "cleaner" look to the woodland floor and respond well to dodging and burning to create contrast. It's a mixed woodland. Wandering towards Glendalough Woods along the Inchavore River I came across an open area with scattered birch amongst bracken. This looked promising and I returned here on 3 occasions but just could not find a good composition – foiled again. My usually trusty YR weather app also let me down – forecasting thick fog that did not materialise on 2 visits. Another new location (for me) in Trooperstown is a walk on the northern bank of the river heading east directly from the car park. Through gorse the path meanders along the river to yield an interesting marsh/scrub. But again I struggled to create a compelling image.
As autumn yields to winter in early December, I find the patches of remaining colour are intense and fog/mist becomes more frequent. In many respects, this time of year can be most interesting particularly if mist is combined with an early morning frost. The valleys of Wicklow tend to receive some mist on most calm winter mornings but the mist will clear as the day progresses. I decided to pay a few visits to Glenmalure through the month of December and as I write this blog on New Year's Eve, I'm still planning more visits there in early January. Glenmalure is the gateway to Ireland's highest mountain outside of Kerry – Lugnaquilla but I am more interested in the pockets of woodland and rivers in the vicinity of the valley. It has a remoteness and wildness all of its own and is the longest glacial valley in Ireland. The Glenmalure Inn is another good reason to visit as it is the perfect stop off for lunch or breakfast – to put the feet up in a warm and comfortable setting with an atmosphere of yesteryear.
Coolalingo Waterfall close to the inn is a wonderful subject – but can it be classified as woodland photography? Is it outside the scope of my project? Not to worry – where there's a will, there's a way. To the left of the main waterfall is a mini cascade that is obfuscated by a moss covered tree that with a vivid imagination could be seen as a walking figure. Not far from the waterfall is an area of wild scrub/marshland. It is an old plantation that was cleared maybe 20 years ago and has been left to grow wild. I visited here on a "soft day" when mist and drizzle combined to lessen the impact of the untidy backdrop to a composition of a couple of birches. The effect of mist and/or rain on a woodland scene cannot be overstated – the birches in this image are unphotographable in standard light but in mist they glow. One of my favourite images of the year.
The road to the Baravore car park triggered a steep walk up above the tree line into the breathtaking Fraughan Rock Glen  – above which sits Arts Lough. Maybe this will be my next project – exploring a defined, bounded mountain space. To explore this high valley and experience its moods and textures in differing contexts of wind, sun, rain and light – that would be worth a month or so of weekends.
I hope you enjoyed reading the blog and viewing my images from this autumn. Until next time………….