Puglia: Photography in Gargano and Matera
Puglia, the heel of the boot of Italy is a fascinating travel photography destination. We chose to tour the northern Gargano peninsula for the first 6 nights of our trip discovering the hilltops towns of Mont Sant Angelo and Vico De Gargano ,the seaside town of Vieste and Forest Umbra. For the last 3 nights of our stay we chose the truly awe inspiring city of Matera, the third oldest continually inhabited city in the world.
The region is famed for it's fresh produce from both land and sea. Puglia produces c.40% of Italy's olive oil. Apart from hilly and thickly wooded Gargano, Puglia's landscape is largely flat. Nonetheless, many abandoned stone farmhouses set in rolling countryside and juxtapositioned against red earth and ancient olive trees provide the perfect ingredients for a stunning image. The narrow alleyways of Puglia's ancient towns are a street photographer's dream.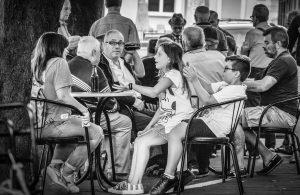 Post siesta card games in late afternoon light, women turning out Orecchiette pasta on their doorsteps, teenagers speeding by on their vespas beneath balconies laden with drying linen and in empty squares the sound of Ave Maria emanating from beautiful churches. This is Italy at it's finest. And very few tourists to boot!
Driving north from Bari, our first stop was a small pebble beach near Mattinata and a couple of days of relaxation. The coastal drive between Mattinata and Vieste is stunning but has limited opportunities to pull in. Just before Vieste the massive sea arch of San Felice is impressive. There is ample parking here to stop but the mid afternoon light was not ideal.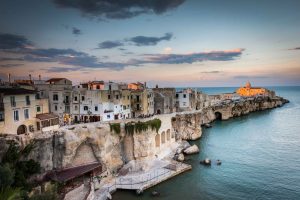 Arriving in Vieste an hour before sunset I set off promptly to a view point overlooking the coastal cliff leading to Chiesa di San Francesco. At sunset, the church was beautifully illuminated for a few seconds. However, to get a better image I had to balance precariously on a wall standing over a couple who were trying to enjoy their meal out!
Departing from Vieste, lightning filled the sky on the hill beyond the town. I took a number of images at 1-2 sec to capture a lightning strike but they were faint and distant. What followed was off plan. We looked down and saw a beautiful beach. With the campervan parked just off the sand and daytime temperatures of 30C we found it difficult to leave and spent the next 3 nights here.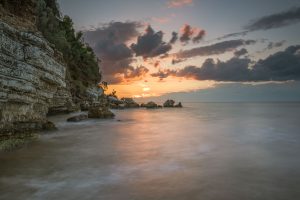 With distant views of Rodi Garganico as a sunset shot at one end of the beach and and a trabucco (a local, wooden fishing platform) at the other, I shot these images and various abstract seascapes at either end of each day.
Vico De Gargano is a short drive from Calanella as we learned later was the name of our picturesque beach. Vico is well worth a wander through it's historic centre particularly before sunset. It is not touristy and presents great opportunities for street photography. The image of a post siesta card game plays out in many towns throughout this part of Italy and is one of my favourite images from the trip.
Another town magnificently positioned high above the coast is Mont Sant Angelo, a UNESCO heritage site. The cave of Michael the Archangel at it's entrance is well worth descending the steps worn by pilgrims since the middle ages.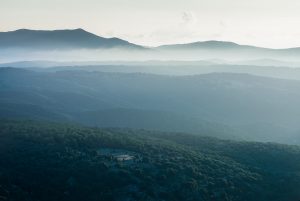 Further, the town offers many photographic opportunities in the way of winding, narrow streets from which dramatic Italian life seeps from every crack and breathtaking panoramas from the towns walled perimeter such as this image with dawn mist and sun. And each church has frescoes of great artistry. In the hills surrounding the town, it's as if time has stood still – this image of a goat herder brings back memories of rocky, steep pathways, the scent of herbs and the sound of distant birds.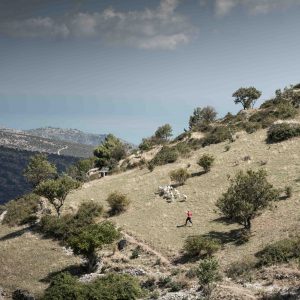 So which is the most beautiful town in Puglia? No matter who we seemed to ask this question of, the reply was invariably Matera appended with "but it's not in Puglia". So a 3 hour plus drive to Matera in Basicalata followed our stay in Gargano.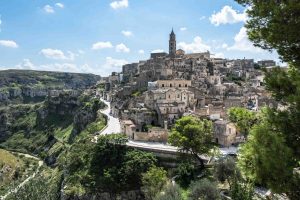 Masseria Rodogna is a camperpark like none other we have been to. Set around historic buildings and situated on a plain 2km beyond Matera, It is truly unique and peaceful. Lesser Kestrels abounded. We ate beneath a shaded tree in a courtyard used as a film location in Mel Gibson's Passion of Christ. Indeed, the whole of Matera is like a film set and wandering the alleyways of the sassi high above a gorge was such an experience that we decided to stay 3 nights here. Matera is inundated with tourists and many of the cave like dwellings have been converted into luxury accomodations. As such, the historic centre lacks the vibrant street life of Vico, Mont Sant Angelo and even Vieste. Notwithstanding this, the city is a wonder. Across from gorge lies the Murgia plain which offers magnificent vistas of the city at sunset.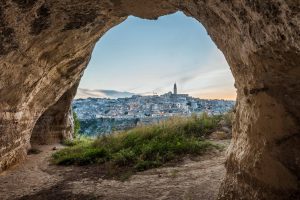 The viewpoint is called the Belvedere but unless you want to share the view with newly weds and tour buses walk out along the field from the first car park before the Belvedere. An alternative image can be taken from within one of the many caves below the cliff.
Our final stop was an afternoon in Bari's old city. Both cathedrals in Bari are well worth visiting. Streetlife was the most vibrant comparable with Naples. It was a real surprise and I would strongly recommended at least one night in the historic port area.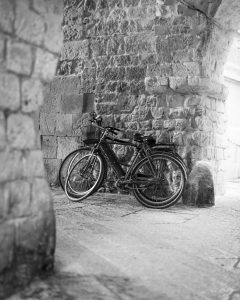 Puglia is not to be rushed. Each town needs time to soak up it's unique atmosphere and life. We never got to Ostuni, Lecce, Monopoli, Polignano De Mare or indeed Alborello with it's trulli houses. Yet we feel we experienced much in our short tour of Puglia and Matera.
Another trip for another year, perhaps.