Photographic Distinctions: Preparing a panel (IPF)
The Irish Photographic Federation (IPF) is the umbrella organisation for photography clubs in Ireland. The IPF conducts distinction sittings where photographers submit panels of mounted prints for critique. Successful panels are awarded the relevant distinction.
There are 3 levels of distinction to be undertaken in the following order;
Licentiateship
Associateship
Fellowship
Undertaking a distinction is an unparalleled means to improving your photography. If you enjoy taking images but are also dedicated to evolving your craft, consider joining a club and/or preparing and submitting a panel of mounted prints for feedback. The IPF conducts distinctions at regular intervals during the year. Your images will be critiqued by a team of highly experienced photographers who are driven by a common goal of improving the standard of photography in Ireland and showcasing the work of Irish photographers.
Never has there been a time when images are so readily and cheaply shared on platforms such as Instagram, Flickr and even Facebook. Whilst these platforms are designed for business advertising built on the personal sharing of life moments, they relegate the art of image making to a disposal and clickable novelty. But there is no denying the power of these platforms in sharing your images to a wider audience.
The distinction sittings managed by the IPF provide a live space for the presentation of mounted prints in the form of a cohesive panel of images for judging and viewing in an auditorium. To travel to and spend the day viewing the work of fellow photographers and listening to the judge's insightful feedback makes for a wonderful day out and a very special event for each photographer presenting their work.
Building a portfolio of images is no easy task and can take much dedicated time. Once you have a selection of images, the next step is to apply for the sitting and prepare the panel. For further details and the relevant guidelines see link below;
https://irishphoto.ie/distinctions/
If you are a little unsure whether you have the makings of a panel consider applying. Applications are accepted a few months before the sitting and there is no better call to action than a deadline!
The LIPF is the first distinction to take. It requires 10 images. The AIPF requires 15 images and the FIPF 20 images, both "A" and "F" panels must be accompanied with a statement of intent. The statement is a brief description of the panel. Do not underestimate how important the statement is. If the statement does not complement and match the panel this will be taken into account as part of the judging.
The Lightroom Print module provides a means to view your selected images as a digital panel and although far from perfect I have used it in preparation for all 3 distinctions. Browsing through my Lightroom catalogue, I simply add a keyword "LIPF" etc. to any image worth considering for inclusion. Then selecting from the keyword list in the Library module, you can open the Print module. Set up the dimensions of the page to fit the relevant panel – for example, the F panel will require c.300mm x 1000mm to fit two rows of 10 images on a good sized screen. Then it's simply a matter of dragging the thumbnailed images from below onto the page and positioning the images within the panel. The layout of the images is a time consuming but important process that can prove frustrating. Some of the images may have been previously processed  for sharing on social media and on closer scrutiny are faulted – focus not pin sharp, highlights blown, unacceptable noise etc. Some images that you like may not fit into the panel – they just don't sit right amongst the other images.  This process should be iterative – 10-15 minutes here and there until a cohesive panel forms that you are satisfied with. Don't rush it.
Ensure your images are technically good. Highlights must not be blown out – use the histogram to check this – if they are, no ink will be applied to the page on printing. Ensure there is detail in your shadows. Good image composition is essential. There are some rules that may be followed but essentially you should know that the balance of objects within  the frame are positioned harmoniously. Similarly the lighting should draw the eye to your main subject – for example, in a landscape ensure the sky is not too bright or the shadows too dark – so much so that the main subject becomes a secondary object. Stand back from viewing your image on the screen or zoom out. Sensor spots must be removed – carefully examine your digital images and then re-examine them. There are many other aspects to achieving a technically sound image that I can't cover in a short blog.
Printing of images is a distinct process in itself. I would encourage printing your own images. Printers are relatively cheap and produce results that can match the quality of the finest print studios. I have a Canon Pro 10 s and primarily use Hahnemuhle paper. You can experiment with different paper types in the comfort of your own home. If you're not happy with a print – adjust the image and print again – this offers a degree of flexibility leading to a final image that you are satisfied with. It also builds experience of an integral part of your image making. To hand that process off to a third party deprives you of this experience and knowledge. For LIPF, AIPF and FIPF distinctions, I enjoyed printing my own images and was delighted to see them mounted and on display before the judges. Even without having a panel to work on, when I take an image I'm happy with, I'll print it for fun, slip it into a photographic sleeve and place it in an archival box – thereby building up a collection of printed images. See link below for where I've sourced the slips and boxes;
https://www.preservationequipment.com/Catalogue/Photographic-Products/Archival-and-Presentation-Boxes
Mounting of images is another kettle of fish. My advice is to have your prints professionally mounted. Consider the time taking the images, processing and printing them. You deserve to have the images well presented. Consider the size of the print versus the size of the mount. IPF has a limit on mount size as max 40cm to 50cm long.
Below are the hanging plans for my 3 panels presented to the IPF in May 2019 (LIPF), September 2021(AIPF) and March 2023 (FIPF). I hope you find them helpful if you are  considering preparing a panel. My LIPF and FIPF panels were printed on Ultra Smooth Photo Rag Matt and my AIPF were printed on a Photo Lustre paper due to limitations at the time – otherwise I would have printed on Matt.
FIPF Hanging Plan

FIPF Statement of Intent
Life in a Native Irish Woodland
A native Irish woodland is comprised of mammals, insects, plants, birds and other living forms bound together by a community of trees. Indivisible, each is part of the whole, a cycle of interdependent life. It is a complex, self-reliant and fragile ecosystem – a single living, breathing organism.
The selection of woodland nature images presented, whilst themed on the individual species, encapsulates the essence, mood and atmosphere of a native Irish woodland in which this synchrony of life unfolds. A large aperture was employed to ensure very shallow depth of field to create a stylistic impression of the woodland as it embraces and diffuses with each of its inhabitants.
The wildlife images were created during 2021/2022 predominately in a portable hide erected locally in Newcastle, Co Wicklow where the woodland opens to a glade. The location was scouted for the quality of light provided and by using trail cams to detect activity.
AIPF Hanging Plan

AIPF Statement of Intent
A collection of landscapes from Ireland, Scotland, Iceland, Spain and Norway bound together with a theme of water, snow or ice. The images have been carefully selected to form a panel where scenes from geographically distinct landscapes and subjects flow and complement each other.
There are few moments in life as exhilarating and spiritual as being alone in a stunning landscape when light and weather combine to form an indelible memory. These images are reflections of some of those memories.
I hope you enjoy viewing these images as much as I did making them.
LIPF Hanging Plan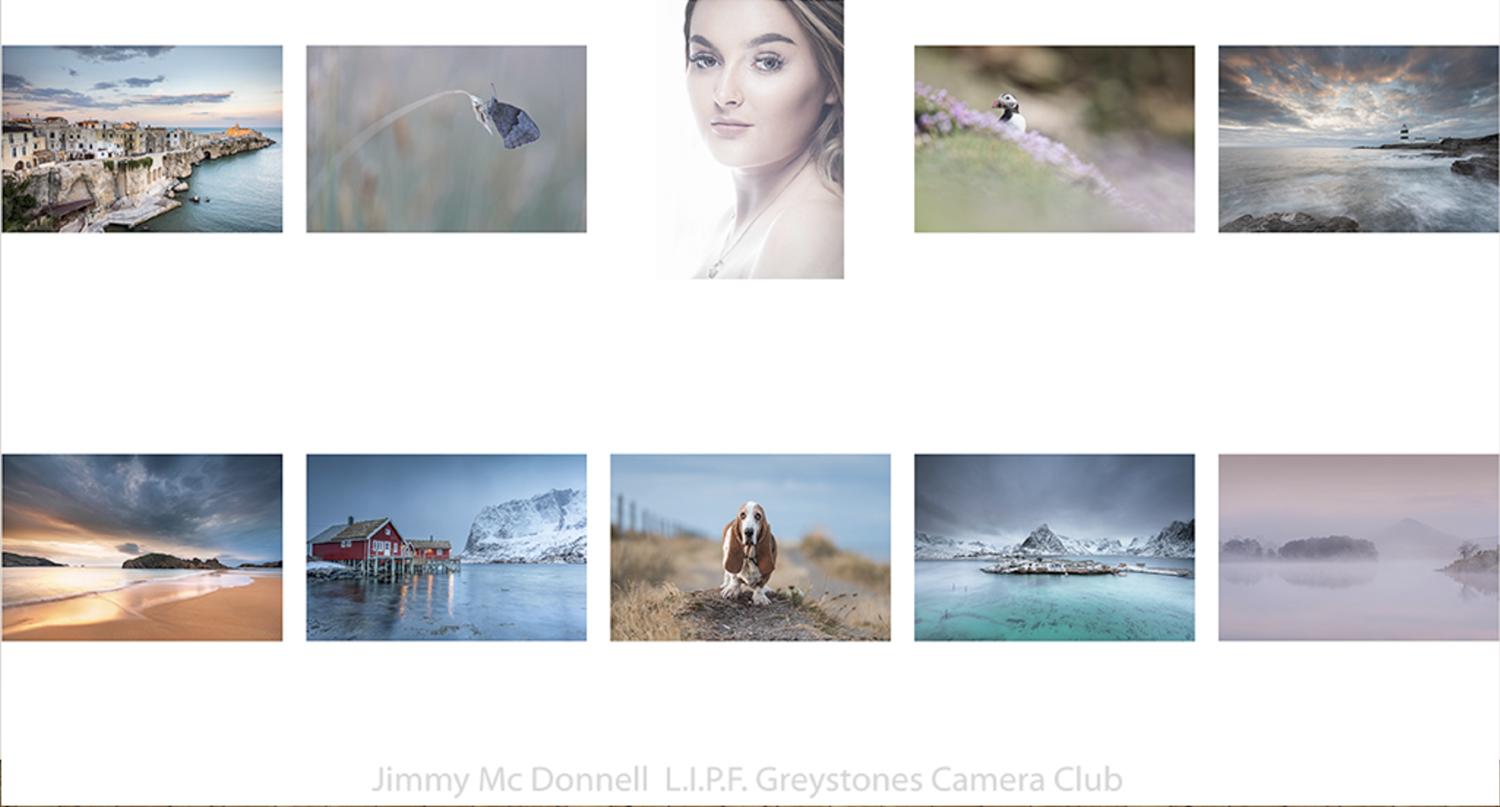 LIPF, AIPF and LIPF Albums
Hover and click on the albums below to view the images in the respective hanging plans above